About The Dog Abides | Dog Walking Services in North Lake Tahoe

"I was blessed to have dogs around me growing up my whole life."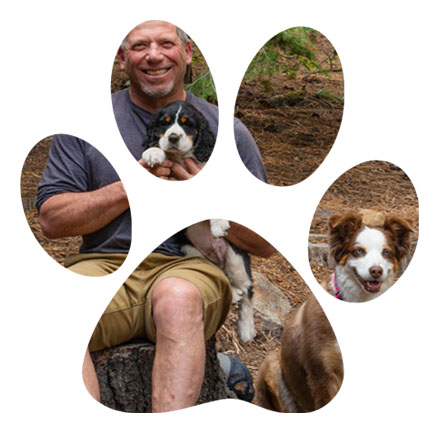 A Saint Bernard, a couple of Toy Poodles, until my mother finally landed on Bearded Collies back when they were pretty rare. I inherited her 5th Beardie, Billy, almost 3 years ago, and he has reminded me why my mother fell in love with the breed back then. My interest in learning about all breeds started early.
I always loved Nordic breeds, and finally found a long-haired white German Shepard after college in Santa Barbara that I named Yeti. My passion for the snow and snowboarding eventually was too much to deny, so we moved north. Shortly after moving to Lake Tahoe I found a mate for Yeti and raised a litter of pups, eventually keeping one of Yeti's sons. Shadow was, literally my shadow , and we shared an amazing 12 years here. We moved to the tropics in Mexico for 2 winters and Shadow become an icon. He was the only polar bear in Sayulita! We adopted a street dog who had had a rough go so far. The short 2 years that I had him, was very rewarding and humbling working through his rehabilitation. It also strengthened my love for all dogs and the power of the bond between dog and human.
After over 30 years in the service industry, I have decided to dedicate my service to the enhancement of dogs lives, as well as those of their owners. I am currently enrolled in a comprehensive animal behavior course, focused on dog obedience, and look forward to expanding and increasing my services as my education continues. I feel blessed to love what I do, and where I get to do it, here in Lake Tahoe. And I want to pass this blessing on. Tahoe provides this breathtaking playground, we are here to abide by its beauty and frolic in it.
Paws down, tails up, let's go.......
Scott Harris
Owner, The Dog Abides